Math Literacy Toolkits®
ProActiveEd Math Literacy Toolkits are included with our Math Literacy instructional framework professional development.
After you contract with us for our Math Literacy program, you will receive the grade-appropriate toolkit, participate in a training webinar, and then implement the toolkit in your classroom.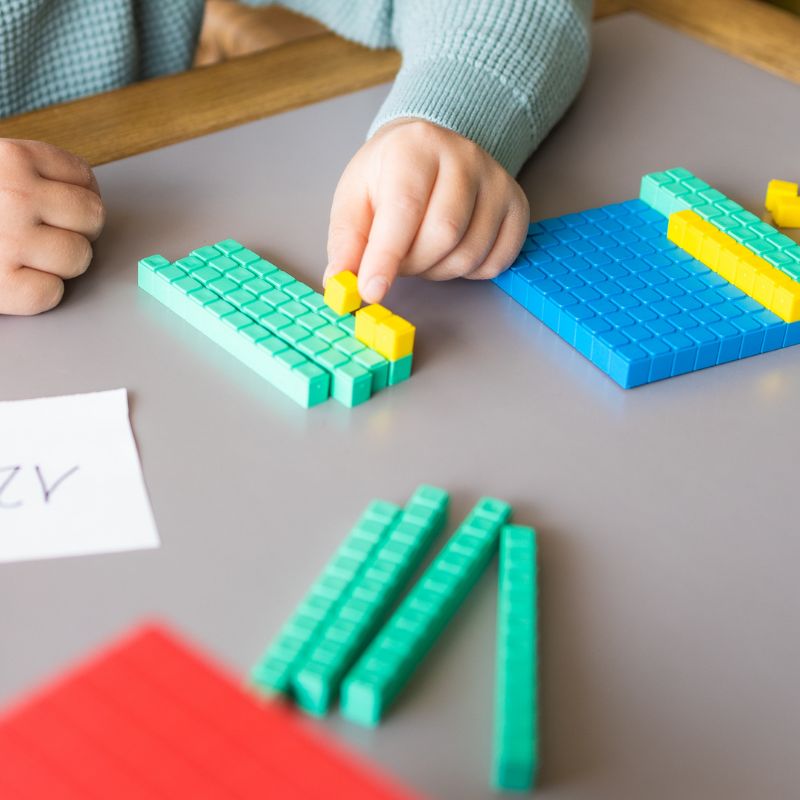 About the Toolkits
Each toolkit includes customized conceptual and problem-based lesson plans that engage learners through real-world manipulatives, expository text, text dependent questions, graphic organizers, problem-solving scenarios, and procedural fluency exercises. Since the kits emphasize research-based instructional practices, they can be implemented by any teacher in conjunction with any existing curriculum.
Toolkit Implementation Process
STEP 1:
Purchase PD
STEP 2:
Select Toolkits
STEP 3:
Training Webinar
STEP 4:
Implement
Explore our toolkits:
FILTER BY CONTENT LEVEL:

GRADE 1
Adding and Subtracting up to 20

GRADE 2
Adding with Place Value Up to 100

GRADE 3
Adding and Subtracting up to 20
Included Materials: Bundles of 1000, 100, & 1s
Additional Resources Available: Blank Mats

GRADE 3
Introduction to Fractions Toolkit
Additional Resources Available: Fraction Wheels & Bars,
BuildWriteFindDraw

GRADE 5
Volume of Rectangular Prism
Included Materials: CM Cubes
Additional Resources Available: NET 1, NET 2

GRADE 5
Understanding Decimal Place Value Toolkit
Additional Resources Available: Quarter Wheels, Decimal Wheels, Hundredths Grid, Thousandths Grid ALGEBRA I
Linear Functions
Included Materials (per student): 8 2×2 bricks, 8 2×4 bricks, 1 6 in. ruler, 1 blank graph sheet (inch wide)
Additional Resources Available: NET 1, NET 2 ALGEBRA I
Linear Inequalities
Included Materials (per student): 20 beans, 8 blue cups, 8 red cups, 1 small box ALGEBRA I
Solving Systems of Equations Toolkit
Included Materials (per student): 16 beans, 8 red cups, 8 blue cups
Additional Resources Available: NET 1, NET 2 ALGEBRA I
Factoring Quadratics
Included Materials (per student): 100 beans, 5 yellow 1.5" x 1.5" squares, 5 yellow 1.5" x 0.5" rows, 2 yellow 0.5" x 0.5" unit squares, 4 green 2" x 2" squares, 4 green 2" x 0.5" rows, 1 green 0.5" x 0.5" units
Additional Resources Available: Quadratic Mats & Squares ALGEBRA II
Rational Expressions
Included Materials: cardboard sheets, clay, dots ALGEBRA II
Logarithmic Functions
Included Materials (per student): 1 Mitosis Mat, 1 bag of 81 beans GEOMETRY
Parallel and Perpendicular Lines
Included Materials: bamboo sticks, velcro, paper plates GEOMETRY
Pythagorean Theorem
Included Materials (per student): 2 sets of 3 different sized squares (3×3, 4×4, 5×5) cut out, 2 sheets of white paper GEOMETRY
Trigonometric Ratios
Included Materials: protractor, a piece of string, a drinking straw, a large binder clip, and some scotch tape GEOMETRY
Angles, Radii and Chords
Included Materials (per student): 3 large paper plates,
10 small paper plates, ball of string per kit, roll of scotch tape per kit PROBABILITY & STATS
Conditional Probability
Included Materials (per student): 1 brown paper bag, 5 red marbles, 3 blue marbles